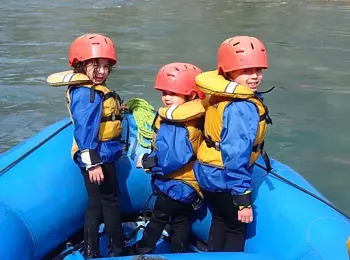 A one of a kind sightseeing experience by land and water for the kids to enjoy.
Introduce the kids to the delight of river rafting in a non-threatening way with a trip on the Shotover River. Suitable for children aged 3 and upwards, Family Adventures are the only white-water rafting company in Queenstown licensed to carry children under the age of 13. Family adventures is operated with a friendly team of experience rafters, that have safety as the highest priority. Be safe in the knowledge that the kids can have "extreme" fun all the while being safe.
Family adventures will suit you and the kids up in the right clothing, with wetsuit boots, wetsuit or over-pants, spray jacket with sealed collar and cuffs (which importantly keep the water out!) a fleece and bouncy aid and of course the ultimate , the safety helmet. It's not all high energy fun for the kids, they can learn along the way.
With the adventure beginning with a drive into Skippers Canyon, kids can learn all about the areas rich history and the see gold mining relics. Keeping the kids entertained along the way with tales of gold mining past. So what are you waiting for, its time to send the kids down the river with Family Adventures!
Visit website